Ok here it is, 10% off anything I offer till the end of the year. Make up your list and email it to me. I will make the adjustments and then send you an invoice via Paypal or Google

2 year warranty for non commercial use.
Husqvarna 455 CHAINSAWS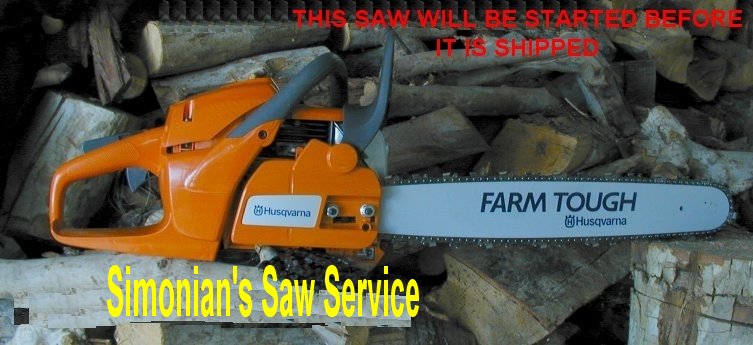 HUSQVARNA 455 X TORQ CHAINSAW

" THE ULTIMATE 20" FIREWOOD SAW"

MORE LOW END TORQUE WITH IMPROVED FUEL ECONOMY ALL DONE WITH NEW ENGINE TECHNOLOGY THAT IS BETTER THAN THE OLD WAY.

THE 2 CYCLE ENGINE IS HERE TO STAY

The 455 Rancher is an ideal saw for landowners and part-time users who require a high powered, heavy-duty and responsive workmate for all cutting conditions. It combines the best characteristics of its predecessor with new, facilitating technology and ergonomics.

HERE IS THE NEWEST EDITION FROM HUSQVARNA THE 455 FIREWOOD SAW.

HUSQVARNA CALLS THIS SAW THE "ULTIMATE 20 FIREWOOD SAW". SOME OF THE FEATURES ON THIS NEW SAW ARE:
EXTRA TORQUE
IMPROVED FUEL ECONOMY
AIR PURGE FROM CARB
COMPRESSION RELEASE
SIDE CHAIN TENSIONER

ALL OF THIS ADDS UP TO A SAW THAT IS EASY TO START, EASY TO SERVICE, ENHANCED DURABILITY, ALL IN A FRIENDLY DESIGN AND AT AN UNBELIEVABLE LOW PRICE.

THIS SAW IS NEW WITH WARRANTY.

TO MAKE THIS DEAL HARD TO BEAT, I AM PUTTING IN AN EXTRA CARLTON CHISEL CHAIN THAT WILL ADD EVEN MORE PERFORMANCE TO THIS EXTRA TORQUE SAW. >

WHEN YOU BUY A HUSQVARNA OR JONSERED CHAIN SAW FROM ME , YOU ARE BUYING FROM A PROFESSIONAL CHAIN SAW DEALER.